144 Section has been imposed in Tirupati. YCP MP Mithun Reddy and MLA Peddireddy were house arrested.
Andhra Youth Activists marched towards RK Beach holding National Flag. rnThey were taken into preventive custody and shifted to the police rnstation.
A Man identified as Mohan Chand offered Ksherabhisekham to Pawan Kalyan's idol and launched 'Silent Deeksha' there itself.
Cops stopped escort vehicles of YS Jagan at Lankapalem when the rnOpposition Leader was on his way to join Candlelight Rally at rnVisakhapatnam. They were taken to Paravada Police Station.
Vijayawada MP Kesineni Nani: 'It's unfair to link Jallikattu and Special Status. People…beware of Jagan's cruel intentions'.
AP TDP President Kala Venkat Rao: 'Holding protests when CII Summit is about to happen isn't a good idea. Jagan's sole agenda is to ruin CII Summit. What difference does Special Status make when we already have Special Package? If AP stood No.1 in investments despite not having Special Status, States accorded with Special Status are at the bottom of the table'.

BJP AP chief Kambhampati Haribabu: 'Few Leaders have been using Special Status for political mileage. People shouldn't trust these forces. Comparing Special Status with Jallikattu doesn't make any sense. Centre is doing everything it can to extend all possible support to AP through Special Package'.
Several YSR Congress Leaders were house arrested as a precautionary measure. Jana Sena Activists, JAC Leaders and Youth were taken into custody. Even Tourists weren't allowed to visit RK Beach. Restrictions were imposed on media as well.
Tension prevailed in the surroundings of Vizag's RK Beach as Police Department has imposed restrictions by using Section 144. Cops have blocked all the routes leading to the RK Beach and protestors were stopped from reaching the venue of Silent Protest.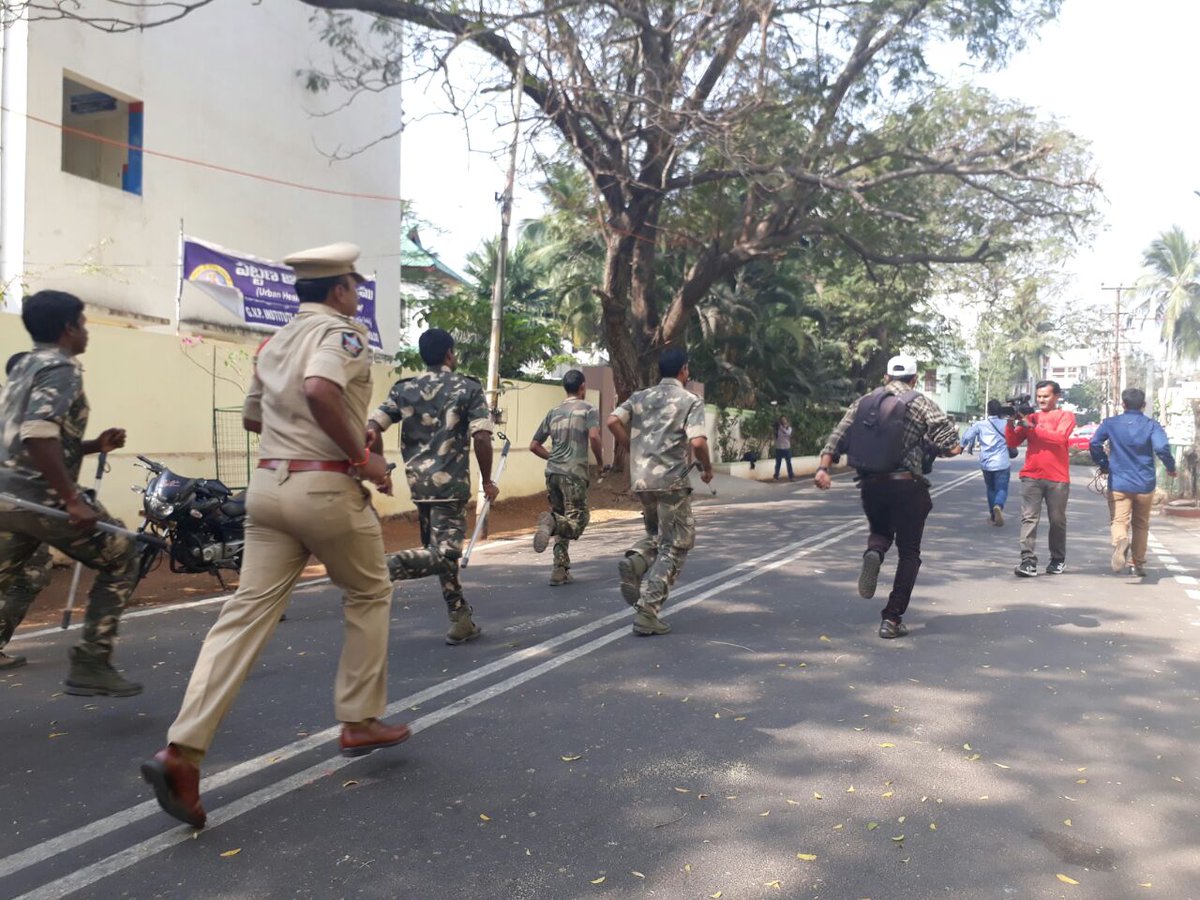 In view of the Silent Protest, Police Department has imposed 144 Sections in all the 28 Police Station limits in Visakha.
Police Commissioner Yoganand: 'We have taken all the measures to prevent untoward incident'.
Telangana Congress Leader Jaggareddy met Pawan Kalyan at the shooting spot of 'Katamarayudu'. He appealed Jana Sena Chief to lead the Special Status movement by promising complete support from Congress party if he does that. He also assures Congress will accord Special Status soon after coming to power in 2019.
Ram Gopal Varma: 'Shocked @urstrulyMahesh is more bothered about dubbing market people than survival problems of actual people who made him super star. Any celebrity if they don't immidiatley don't join @PawanKalyan in his fight for the people's problems they are criminal traitors of AP. If @urstrulyMahesh fans don't tell him to back @PawanKalyan 's fight for AP's struggle they also are as big traitors of AP as him. Why @urstrulyMahesh supporting some Tamil festival culture more than survival problems of AP ? Becos he's not as caring as @PawanKalyan ? Even great heroes from Stallone,Schwarznagger,Bruce Lee etc onwards also fought only normals but @PawanKalyan is fighting Governments'.
Responding on the denial of permission for Silent Protest at RK Beach in Vizag, Pawan Kalyan shot back: 'There was a time when You (Chandrababu Naidu) said Special Status for 15 Years won't be sufficient to bail out AP from crisis, Thereafter you commented Special Status isn't Sanjeevani to make wonders, Recently you proudly declared Special Package is better than Special Status and sought Centre to make it into an Act and finally gave an impression that there is no need for making Special Package into an Act. My People gave a patient hearing when you said all of these. Why don't you give them an opportunity to express their anguish at least once?'.
YS Jagan: 'Chandrababu..convene All-Party Meeting. YCP is willing to be part of it. All of us can reach Delhi to mount pressure on Centre. If the response isn't positive, Let's make all of our MPs resign and go for fresh polls. This move would garner Nation's attention'.
Hero Shivaji: 'Current situation of AP is like – Amma Petta Pettadu…Adukku Thina Thinanivvadu. Why does TDP or Government treat the movement for Special Category Status as revolt against Chandrababu naidu? This is a life n death situation for AP. Why does AP Government oppose Silent Protest at RK Beach? If are against Protests, what have you done when you're in the Opposition? If you protest, it's a good thing? But, You treat protests as a curse for development if people does the same thing! Once, Chandrababu is known to be anti-farmer & anti-employee. Now, Please don't attain Anti-Youth tag. Extend your support for Silent Protest at Vizag. Jai Hind..Jai Andhra Pradesh..Jai Andhra Pradesh Yuvatha'.
Sai Dharam Tej : Shared new Tweet on #APDemandsSpecialStatus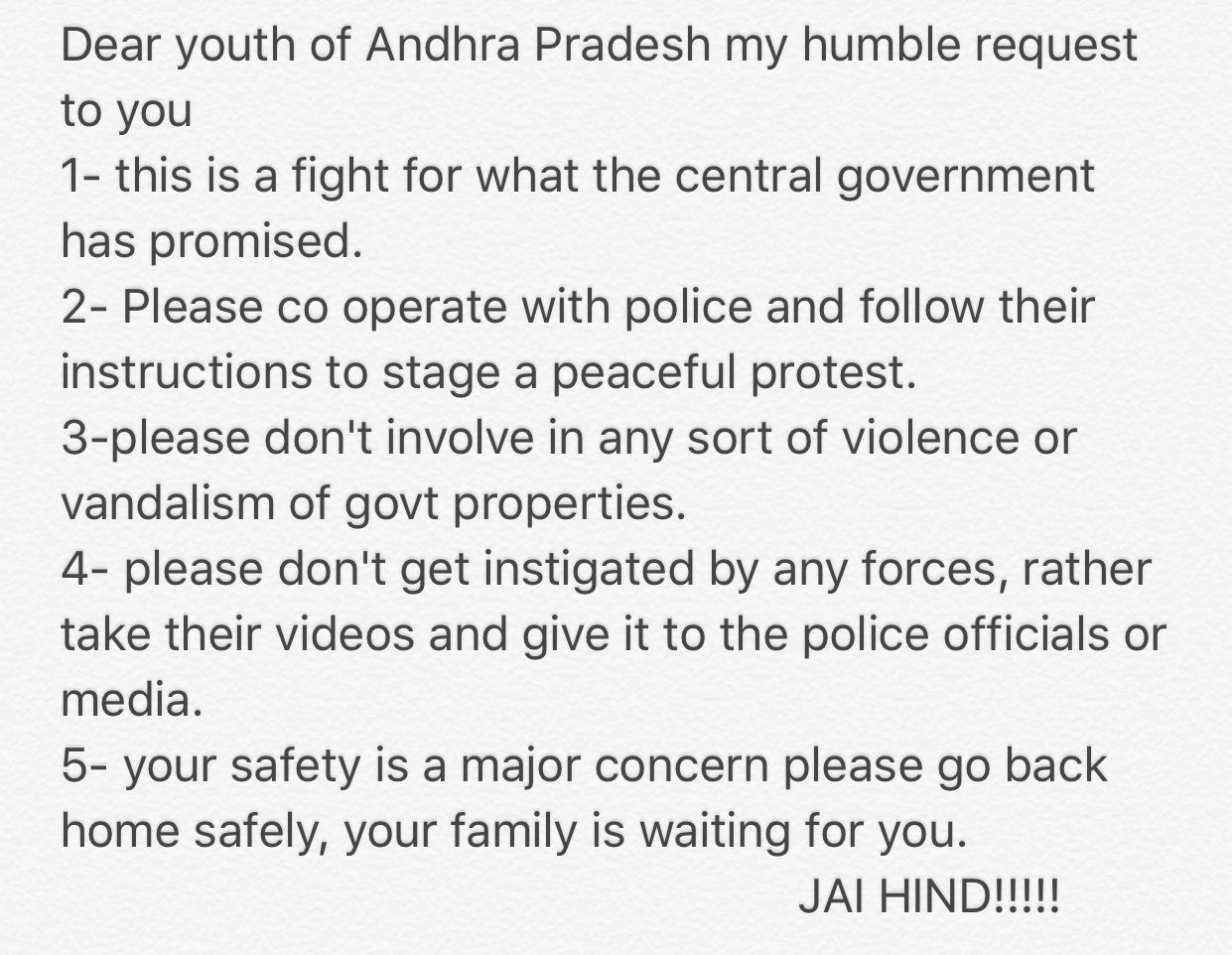 SS Rajamouli : I respect "silent protest is better than violence." Let the spirit prevail and the word given by all parties in the parliament be honored.
Hero Ram :
Dear Brothers and Sisters..ADAGATLEDU..ADUKOVATLEDU..EDHURUCHUSTHUNNAM..Less NOISE = More SOUND!! #silentProtest #APdemadsSpecialStatus
Rana Daggubati : "silent protest is better than violence." #APDemandsSpecialStatus
Kala Venkat Rao: 'Jagan sleeps like Kumbakarna and wakes up after every 6 months. His sole agenda is to stop development in the state. Why does he wish to participate in Silent Protest at RK Beach? What is his hidden agenda?'.

Manchu Vishnu: 'Jallikattu reminded us that we achieved Freedom with a peaceful movement. We should fight for Special Status taking inspiration from it. My complete support is for #APDemandsSpecialStatus'.
Venkaiah Naidu: 'Centre has been offering full cooperation to AP, be it rnsanction of funds, projects or institutions. AP received more funds fromrn Centre in a short span of time. CII Summit will increase employment rnopportunities. People need to keep that in mind. Everybody have the rnright to express their views in Democracy. Let's see who will attend thern protest & who will take the lead'.
AP Yuvajana JAC Leaders: 'Pawan Kalyan has been misleading Youth with his Tweets. Why Pawan who remained mum during Samaikyandhra Movement creating an issue now?  It's better to call off the Silent Protest as CII Summit is scheduled to happen in Vizag on January 27th'.
Dress Code for Silent Protest at RK Beach: WHITE SHIRT
Naga Babu: 'Centre has backtracked on the promise of Special Status. We want Special Status not Special Package. I extend my complete support to the Silent Protest and SCS Movement. I even agree with Pawan Kalyan's thought process on Special Status. Jai Andhra & Jai Hind!'.
Will Pawan Kalyan attend Silent Protest at Vizag? Jana Sena Party Leader Sriraj clarifies: 'There is strong buzz on Social Media that Pawan Kalyan would attend the Peaceful Protest at RK Beach Tomorrow. However, We are yet to receive any official confirmation from Pawan's side. Neverthless, Jana Sena Activists & Youth will directly participate in the protest with the inspiration given by him'.


Pawan Kalyan appealed people of AP to be prepared for a long drawn battle for achieving their rights if Central & State Governments foil peaceful protest at RK Beach in Vizag Tomorrow. He asserts that Jana Sena Party is having the clarity on when to co-operate and when to confront with Government for the sake of people. Lastly, PK declares Jana Sena salutes Jallikattu Warriors for their inspiration to Special Category Status.
Chalasani Srinivas: 'At any cost, Peaceful Project will be conducted at RK Beach tomorrow. If Government tries to suppress the movement, We will fight back and won't hesitate to fight for people's rights despite police action. We don't need Special Package…all we want is Special Package which guarantees lots of benefits'.
CPI Rama Krishna: 'It's unfortunate that AP Government & Police Department is trying to terrorize those who protest in a peaceful manner. It's fair to say people who voice their opinion & fight for Special Status will be sent behind the bars'.
Devineni Uma: 'January 26th & August 15th are the days which make Indians proud. Is it right to hold such protests on Republic Day or Independence Day?'.
Pawan Kalyan: 'Those who are trying to spoil Peaceful Protest for Special Status are actually ruining the future of AP Youth. In 1997, BJP passed a resolution – 'One Vote, Two States' but didn't bother to grant Telangana statehood after coming to power. As a result, 1,458 Telangana Youth sacrificed their lives. The solution for a sensitive issue related to crores of people was delayed by 17 years and finally put an end to it in 12 hours. This is what you say 'vast political experience'?'.
Jayaprakash Narayan: 'I congratulate the Youth fighting for AP Special Status. Time lapse since partition makes the process of achieving it much difficult. Other States will oppose. Protest shifts focus to Tax Exemptions which could attract investments and address unemployment. It's not true that Centre has given Special Package equivalent to Special Status'.
Special Category Status:
1) Tax Exemptions
a) 100% Income Tax exemption
b) Corporate Tax exemption
c) Excise Duty exemption
d) Customs Duty exemption
2) 30% Capital Investment allowance
3) Reimbursement of Insurance Premium for Industries
4) 3% Interest Subsidy on loans to set-up Industries
5) Reimbursement of Transport Charges
6) 50% Subsidy on Power Bills
Special Package:
1) Enhanced Investment allowance
2) Accelerated depreciation

TRS MP Kavitha: 'Let all the Telugus collectively fight for their rights. People of Telugu States should step up for resolving the issues. We support Special Category Status for Andhra Pradesh'.

Pawan Kalyan: 'Tamilians launched a movement for their Culture, Why can't Telugus fight for their rights? Politicians need to support the AP Youth who took the fighting spirit of Tamilians as an inspiration rather than demoralizing them. Amma Pettadu, Adukku Tinanivvadu Anna Sametha Laga…AP Special Status Ki Meeru Poratam Cheyyaru, Chesevarini Cheyyanivvaru, Mari Ela?'.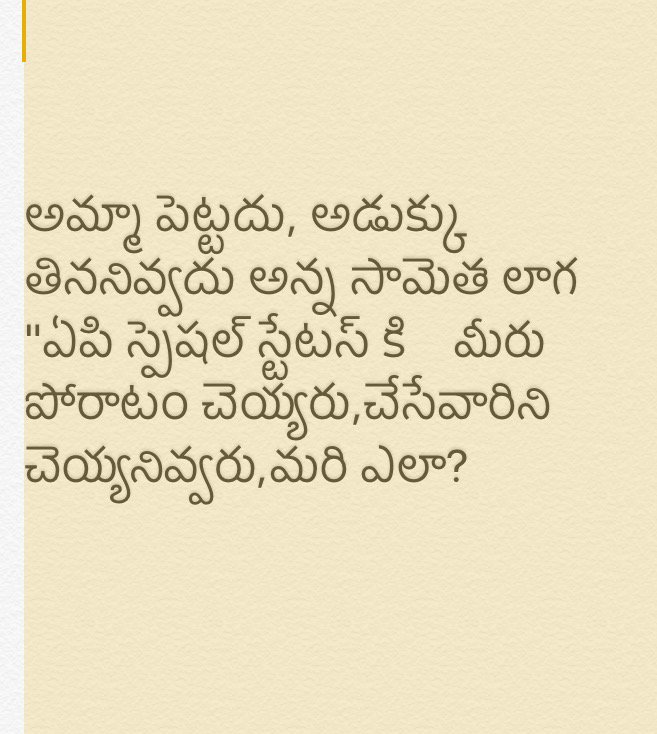 Jagan:rn 'I am going to attend Silent Protest at Visakha at any cost. Whatever rnthe reaction of Chandrababu Naidu might be, I will be in Vizag for this rnRepublic Day. I hear that people taking part in the protest will be rnarrested and PD Act will be used against them. Whatever they do, be it rnArrest or Something Else…I will leave it to the conscience of TDP rnLeaders. If Tamilians carried out an intense movement for a sport, rnwhat's wrong if Telugus fight for their life n death issue?'.


Pawan Kalyan: 'Padavulu Korukone Varu, Vyakthigatha Labham Asinche Varu, Vyapara Avasaralu Unna Vyaktulu, Nayaku Meeku 'Ji Huzoor' Ani Vangi Vangi Salamulu Cheyyadam Chusi Andhrulu Mee Banisalu Ani Porabadodhu'.

Kona Venkat: 'I'm there for the cause brother!! No one stop from expressing our feelings. If u ( govt of A.P) think it's wrong then we say it's our RIGHT. By not allowing the peaceful protest against #APDemandsSpecialStatus ur (govt of A.P) actually conveying a wrong msg!! Let's fight together'

Raj Tarun: 'Peaceful protest is our Right. #APDemandsSpecialStatus I support the silent protest which is happening on 26th Jan at RK Beach, Vizag'.

CPI Leader Ramanaidu: 'Those Leaders who say Special Category Status isn't required should first leave the state'.
AP DGP Sambasiva Rao: 'None of the organizers sought permission for Silent Protest. Nobody knows who is behind this campaign! Anti-Social Elements might be involved and there is a possibility of huge destruction. Law & Order is our priority. Protests planned at Vizag, Tirupati and Vijayawada lack permission. Any sort of violence won't be tolerated'.
Minister Ayyanna Patrudu: 'Meet PM Modi first and then hit the streets. Any sensible person don't choose Republic Day for holding protest. Not fair to compare Jallikattu with Special Category Status'.
Pawan Kalyan responded on the possibility of denial of permission by Police for Silent Protest at RK Beach in Vizag on January 26th. 'AP Govt should allow youth for a peaceful protest. No one can deny their right for peaceful protest in Democracy. 'Youth Protest' is apolitical. If not allowed, you are creating unrest in them,' he cautions.
Jana Sena President also release 'Le Le Le – Power Mix'. This song is the remix version of first song in 'Gudumba Shankar'.
PK expresses his admiration for Bob Marley, Gaddar and Bb Dylan who left a profound impact on him over the years and made him realize 'Art & Music' should untimely stand by needy n suffering. He claims to have done his part in films by getting inspired by them. The song 'Le Le' was conceived when a Girl Student Sri Lakshmi was brutally hacked to death in broad daylight by Manohar in front of her Classmates. Then, Pawan questioned himself, 'How did Manohar dare to do that?'. He realized this happened because the political class was busy in power struggle and they harbour anti-social like Manohar. He believes India needs a strong & courageous civil society which could fight back social evils and antisocial elements.
Pawan gives credit to Manisharma for composing original music, Chandrabose for penning lyrics and KK for singing 'Le Le'.

Pawan Kalyan unveiled 3rd Track (Yeh Mera Jahan!) from '#DeshBachao' Album. He explains this song from 'Kushi' was conceived to convey to Youth that they should actively participate in the process of building the Nation. In addition, It encourages Youth to follow the footsteps of great selfless leaders and be aware of selfish elements.

Speaking to media at NTR Trust Bhavan, Gali Muddukrishnama Naidu asserted that the first demand of TDP Government in the representation given to PM Narendra Modi was the implementation of Special Category Status. He spoke as if TDP is in favour of Silent Protest for SCS when AP CM wasn't happy with the revival of the movement.
Congress Leader & Former MP Pallam Raju: 'Special Status is our right. Congress party is committed to Special Status. Centre & State Governments should be blamed for failure in the implementation of promise given by then PM Manmohan Singh in Rajya Sabha'.

Manchu Manoj postpones 'Gunturodu' audio launch from January 26th due to silent protest for Special Category Status. He, however, could take part in the protest due to the leg injury he suffered while performing a stunt. But, Promises to extend support through Media.
Pawan Kalyan took to Twitter Today to motivate all the Telugus with some inspirational quotes penned by Yuga Kavi Gunturu Seshendra Sharma of 'Adhunika Mahabharatam' fame.
To All The Telugu People: 'Nee Swecha Kosam Entha Raktam Parindho Telusuko Adi Nee Sarira Ksetram Lo Dhairyam Lo Challalekapothe Adi Nee Gundello Atmagouravam Pandinchalekapothe Neevu Banisagane Undipovadanike Nirnayinchukunte Entha Drohiviga Aa Pavithra Rakthanini..'.

To All The Lawmakers of AP: 'Memu Pula Guthulu Vrelade Vasantha Ruthuvulam Kadu Vatti Manushulam! Desam Maaku Gayalichina Neeku Memu Puvvulisthunnam O Asachandikala Kumbavrusti Kurise Mitrama Yochinchu Emi Testavo Maa Andari Kosam Otu Ane Botu Meda Oka Samudram Datavu..'.
Jana Sena President launched Protest Musical Album 'Desh Bachao!' demanding Special Category Status for AP on Jana Sena Youtube Channel Today. He also introduced 19-Year-Old DJ Prithvi  who is behind this motivational album.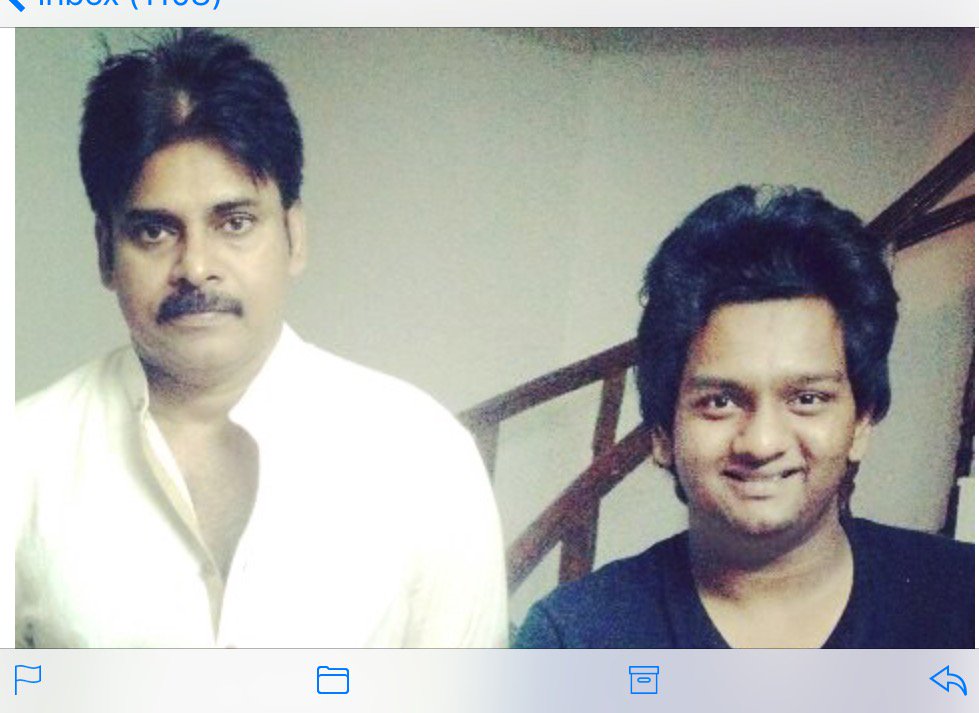 Two ('Travelling Soldier' & 'Naarazu Gakura') out of the six remix tracks of 'Desh Bachao' Album have been uploaded on Jana Sena Youtube Channel. 2 More songs will be released soon
Nani: A protest which promises such discipline is a true protest.
Keep up the promise
Keep up the spirit
I am with u. I am with us!
#SpecialStatusforAP
Pawan kalyan: #APDemandSpecialStatus #JanaSena launches its 'protest musical album' on their #JanaSena YouTube channel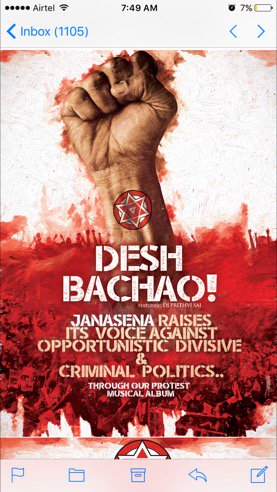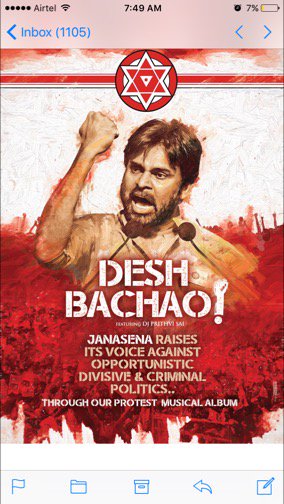 Police Commissioner Yoganand told none of the Organizers of Silent Protest had approached them seeking permission so far. He told granting permission to such protests mayn't be possible due to many reasons (Republic Day & CM Chandrababu will be in Vizag on Jan 26th for CII Summit on Jan 27th, Leading Industrialists and CEO of Multi-National Companies are expected to take part in the CII Summit).
Social Media campaign appealing Telugus to take part in the Silent Protest to be conducted opposite Kirlampudi Layout on beach road in Visakha picked up after Pawan Kalyan expressed his support. The protest demanding Special Category Status has been worrying the AP Government & Police Department.
Rayapati Sambasiva Rao: 'It's unfair to link Jallikattu with Special Category Status'.

Ashok Gajapathi Raju: 'Special Status isn't the only solution for Development. If it's the only solution, why didn't States accorded with Special Status remained underdeveloped so far'.
Manchu Manoj : With Request and Advicce From My Well Wishers, Fans and Dear Brothers,our GUNTUORODU AUDIO Release Would Be Postponed from 26/01/17. Date Would be Announced Later. I am all ways there for the cause. 'WAR CAN'T KILL LOVE, LOVE CAN WIN WAR' Lets Win the Protest with Love #APDEMANDSSPECIALSTATUS
Few Minutes Later Manchu Manoj tweets about his brother Manchu Vishnu's Luckunodu Movie Release on same day.  Movie release is not as easy as audio release . Soo many families and pre bookings r done and it's Unavoidable .. we r with u.
Actor Sivaji : My Complete Support to #APdemandsSpecialStatus Silent Protest at Vizag RK Beach,  AP Must learn From JalliKattu, demands special status for Andhra Pradesh
Sampoornesh Babu: 'My Ticket is confirmed to Vizag. See you there. Hum Jeetne tak ladenge..special status leke hi rahenge. Na madhathu Yuvathaki, a political party ki kaadhu, jarigedhi political party meeting ayithe nenu raanavasaram ledhu'.

Kona Venkat: 'By giving Special status to A.P, they (govt of India) are not doing anything special!! We are just asking them to keep up the promises made. Meeru Ottu Thesi Gattu Media Pedithe, Prajalu Government Ni Dinche Pakkana Pettagalaru..Konchem Chusukondi Mari !!'.

Chandrababu Naidu: 'The people of AP have given me a historic opportunity to make it No.1 state in India. I'm working day and night to make it a reality. At this critical juncture, we need calm, composed, balanced approach & experienced leadership for welfare & development of our state. I'm committed & dedicated to make Andhra Pradesh shine as the Sunrise state. This is my word to my people'.
Tanish: 'Its time for us to be united , #APDemandsSpecialStatus – 26th Jan, RK Beach, Vizag'.
Jani Master: 'Let's Be United for the Welfare of People of AP. I support the Special Status of AP #APDemandsSpecialStatus'.
Meher Ramesh: '#APDemandsSpecialStatus #SpecialStatusIsOurRight'.
Siva Balaji: 'APDemandsSpecialStatus Kadam Thokkudam, Padam Padhuthu, Hrudantharalam Garjisthu Padandi Podam..Sri Sri Vizag RK Beach 21-01-2017'.
Sampoornesh Babu: '@pawankalyan Meeristhunna spoorthiki paadhabhivandhanalu AP DEMANDS SPECIAL STATUS'.
Sundeep Kishan: 'Will be taking part in the Silent Protest in Vizag on the 26th,to do my bit as a responsible citizen..pls join us'.
Tammareddy Bharadwaj: '#APDemandsSpecialStatus Telugu Youth are capable of achieving anything. Tollywood Celebs need to come in support of this movement. Let's unite and achieve our right'.
Nikhil: 'In Democracy its our right 2 protest but In a peaceful way. 26th Vizag Rk Beach, the place 2 Let ur voice b heard. #APDemandsSpecialStatus'.
Sai Dharam Tej: 'Its time for us to be united and fight for what we were promised and deserve #ApDemandsSpecialStatus #SilentProtest'.
Sharwanand: 'Nayakudante Namminchevadukadu , nadipinche vadu. Kalyan gari pina ah nammakam undhi ….AP DEMANDS SPECIAL STATUS. Na Rastram ! Na Hakku!! CALLING YOUTH OF ANDHRA'.
Varun Tej: 'Will be supporting anything tht is for the welfare of the people of our states! I Support the Special Status of AP!#APDemandsSpecialStatus'.
Renu Desai: 'I can only say that I believe in @PawanKalyan and he will always have my unconditional support for public welfare! #APDemandsSpecialStatus'.
Loksatta Party: 'Youth of AP Shud unite  for their future. Share the message widely among your friends #APDemandsSpecialStatus #APSpecialStatus'.
And now, Tollywood Heroes & People from 24 Crafts began tweeting in favour of Silent Protest at RK Beach one after the other.
AP CM Chandrababu Naidu who is closely monitoring the situation finds no connect what-so-ever between Special Category Status & Jallikattu. He expressed the feeling that protests weren't required as Centre promised Special Package on par with Special Status and he is trying to maintain good relations with Delhi Bosses for the development of the state.
Hours later, Opposition Leader YS Jaganmohan Reddy came in support of protest demanding Special Status.
Yet again, Pawan Kalyan took to Twitter to appeal Andhrites to revolt rnwhen Centre hurts their self-respect and ruins their dreams by going rnback on promises.
Yet again, The movement demanding Special Category Status for Andhra Pradesh has been revived. Thanks to #Jallikattu for motivating the youth of AP to fight for their rights!
Appreciating the unity among Tamilians while trying to protect their culture, Pawan Kalyan only wished to see the peaceful protests and the ordinance on Jallikattu become an eye-opener for Andhrites. He advised Telugus to get inspired by the spirited fight of Tamilians against the injustice.
Within short time, Youth of Andhra decided to make RK Beach at Vizag as the epicenter for the silent protest seeking Special Category Status. But, This garnered the attention of people across the World only after Jana Sena Chief extended his support to it.
source:http://english.tupaki.com/